Aging may be unavoidable but the signs are not! At Skincare Laser Centre, we pride ourselves on our ability to revitalize and rejuvenate the skin. Our providers are experts in their field, using the latest and most innovative procedures to ensure optimum results to achieve skin revitalization. By using PicoSure, our providers are able to treat a myriad of skin conditions like hyperpigmentation, melasma, scarring, and wrinkles.
PicoSure is a new and innovative aesthetic laser that is able to revitalize skin without using heat like older models. Instead, PicoSure uses energy to rejuvenate the skin. By converting energy into pressure waves, PicoSure can alter blemishes on the skin. Because of its ability to operate without heat as the driving force, PicoSure provides less discomfort and downtime during and after the procedure.*
Testimonial for acne scar
What is Hyperpigmentation/Melasma?
To understand hyperpigmentation you have to understand how melanin works. Melanin is the pigment responsible for skin color. Hyperpigmentation is a condition caused when an excess of melanin causes the skin to darken. Hyperpigmentation can take many forms: tanning, freckles, and melasma (more commonly known as dark spots). Appearing more frequently in women than men, melasma (darkened brown or gray patches) commonly appear on the face and is aggravated by exposure to the sun.
How long does the picosure procedure last?
Skin Revitalization (PICOSURE) has 24-48 hour downtime with swelling and redness. The procedure has MINIMAL discomfort and then the entire treatment takes a maximum of 2 hours to complete.
PicoSure can also treat areas of the skin affected by scarring. Acne scars not only damage the skin but also can also put a damper on your mental state. Affecting the self-confidence of many patients, our providers at Skincare Laser Centre take pride in their ability to restore our patient's skin to its natural state. Using PicoSure to signal the skin cells affected by acne scars, the damaged cells can begin to heal, revitalizing the face.
As we grow older, our skin begins to lose its elasticity and hydration. When the skin becomes overly dry, wrinkles begin to form. As we age, wrinkle production can be increased based on skin color (fairer skin is more prone to sun damage) and lifestyle factors (such as tanning or smoking). PicoSure can reduce the appearance of wrinkles by promoting the production of elastin and collagen to ultimately revitalize the skin.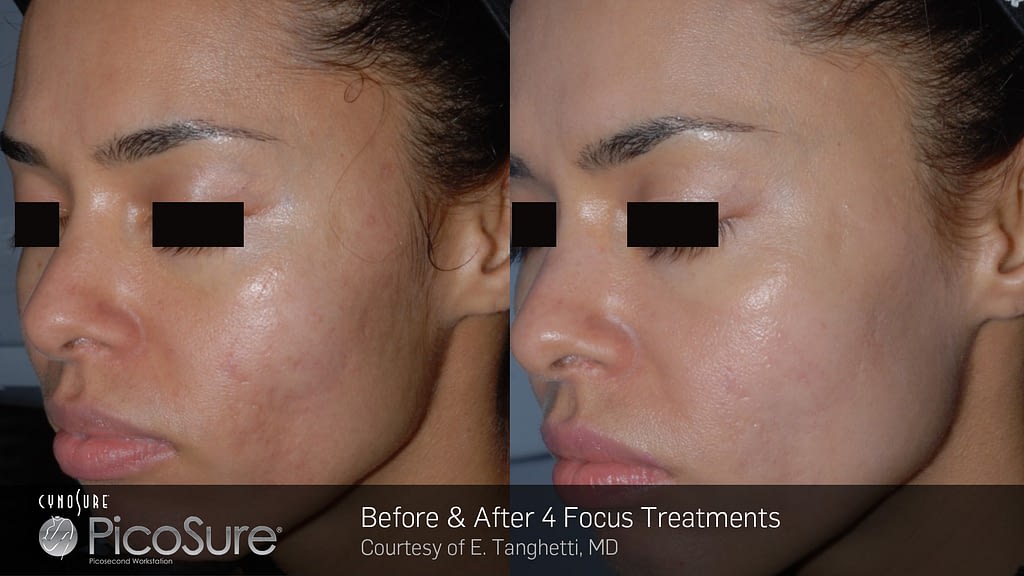 *Individual results and downtime may vary.